My apologies for taking almost 3 months to update. It doesn't seem like it's been that long.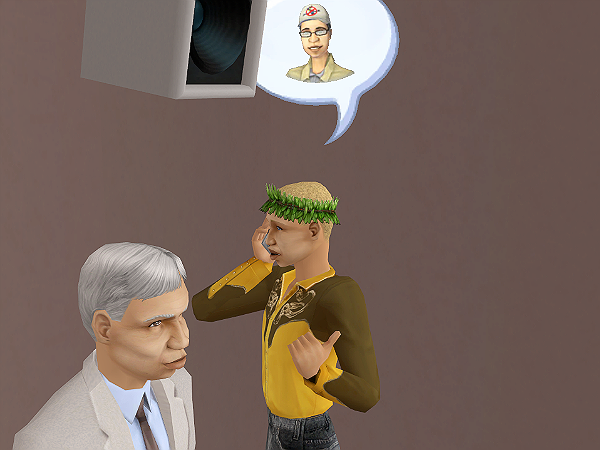 Even though getting engaged to Brittany Wendland was still in Hanley's want panel, it was time to get down to the ugly business of Generation 5. And who could be better for the ugly business than Carmen Patch? If an uglier woman is out there, we didn't find her.
Carmen prefers underwear, and Hanley prefers formalwear. This is an interesting date - one that maybe they should have at home rather than taking a chance of Hanley getting beaten by Mrs. Crumplebottom's purse full of bricks.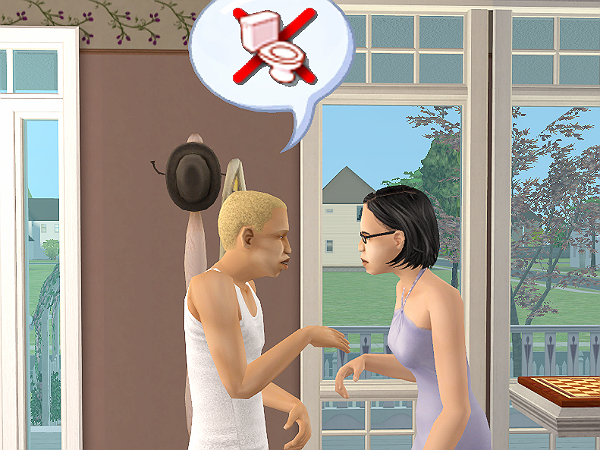 Hanley related the story about how his stupid brother Kermit believed that the Almighty Overseer would direct him to the toilet, if only he had faith, danced around, and waited long enough. And of course, his faith was crushed when he had that embarrassing accident that no one will ever let him live down.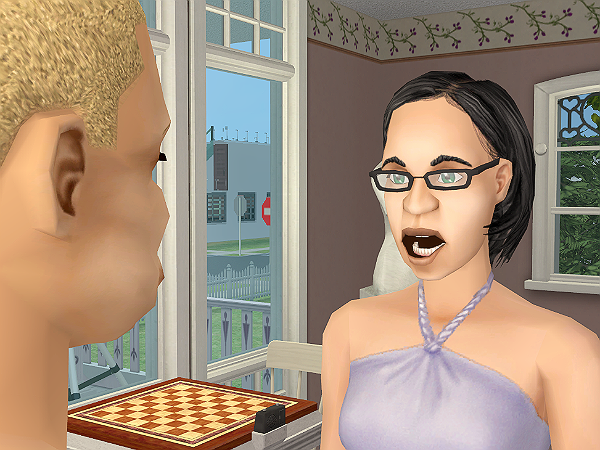 Carmen was shocked that anyone could be stupid and careless enough to pee their pants.
Of course, this was the way to Carmen's heart - sharing such a personal story about his stupid brother's incontinence, Hanley dancing in his underwear while she was wearing her best dress... This was definitely romance at its best.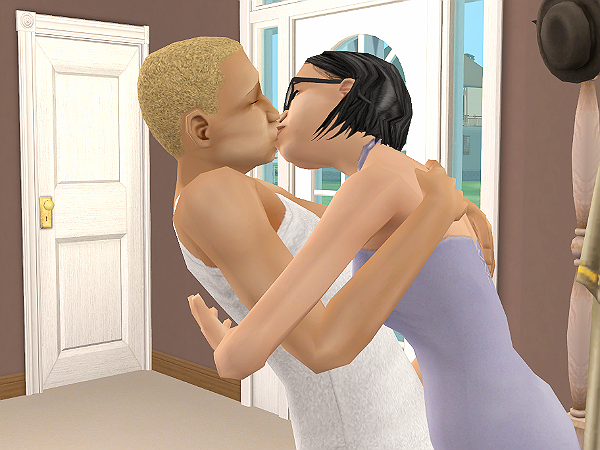 Hanley had become irresistible.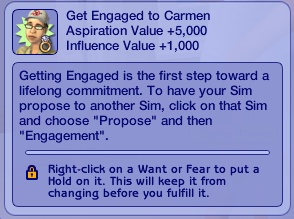 And so had Carmen. Hanley finally forgot Brittany, and wanted to get engaged to Carmen. This made me happy. I like it when my sims want what I want them to want.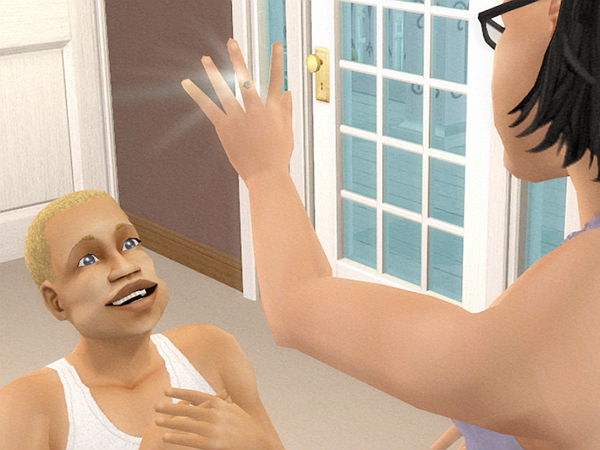 Carmen was more than willing to say yes to the engagement.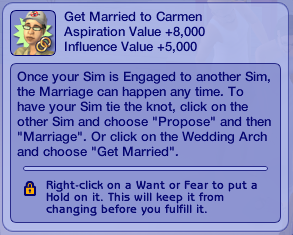 Then Hanley wanted to get married, so I figured they should go ahead and have a wedding.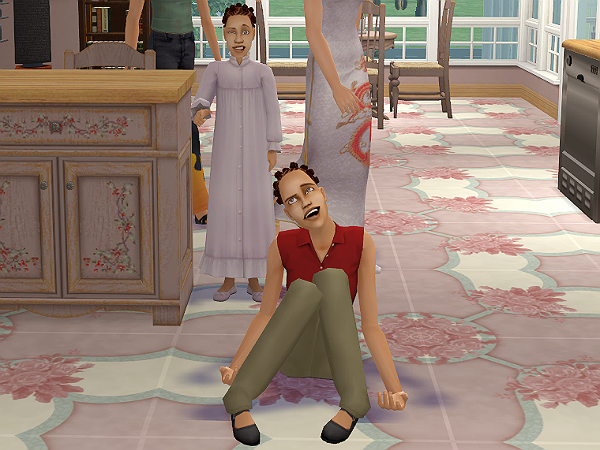 Shortly after she arrived for the wedding, Hanley's Aunt Darcie lost her mind. It was quite entertaining.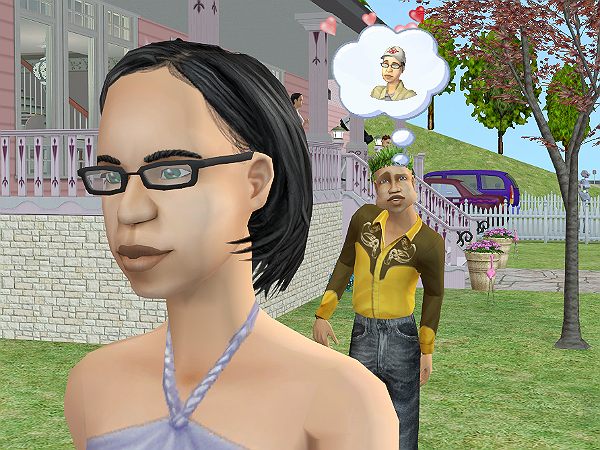 Hanley thinks his fiancee is quite attractive - at least from the back. He looks surprised that the wedding is so soon, though - like now.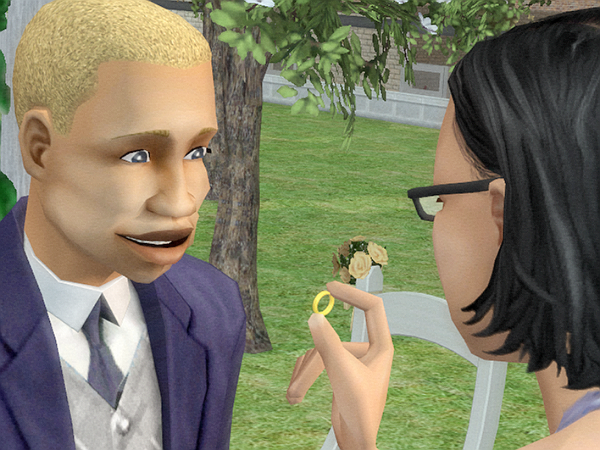 He looked a little scared of that wedding ring, but went through with the wedding despite any jitters.
After all, Carmen was such a beautiful woman. The only woman for him.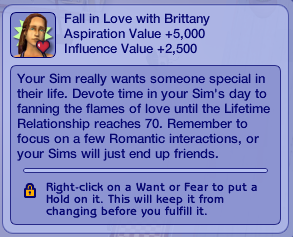 Except that now he wants to fall in love with Brittany again. :P He seriously rolled that want immediately after he was married.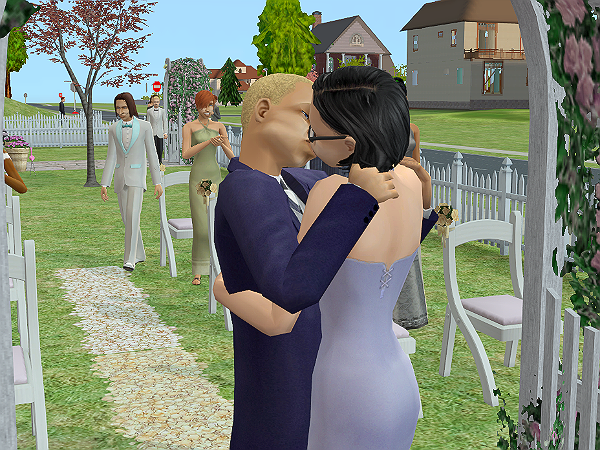 But I'm not about to help him with that want. It's time to make ugly babies with Carmen. That is his job.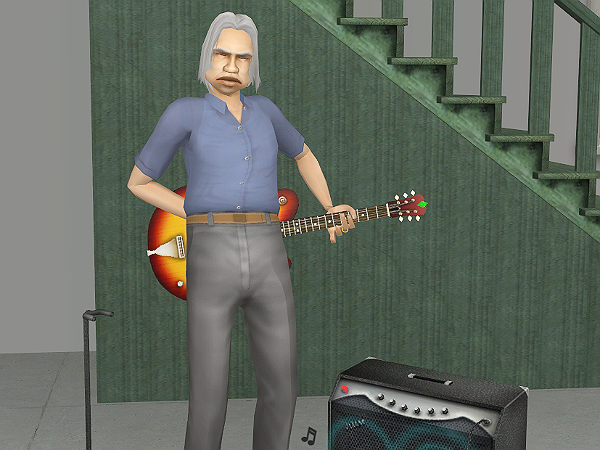 Guess where his dad was during the ceremony. He was in the garage playing the electric guitar and just couldn't drag himself away.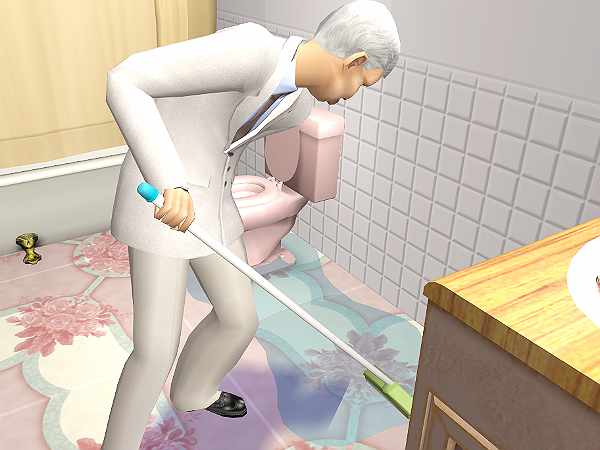 His uncle Fulton also missed the wedding. He was busy mopping up the bathroom because the toilet clogged. What a close-knit family the Thayers having become. :P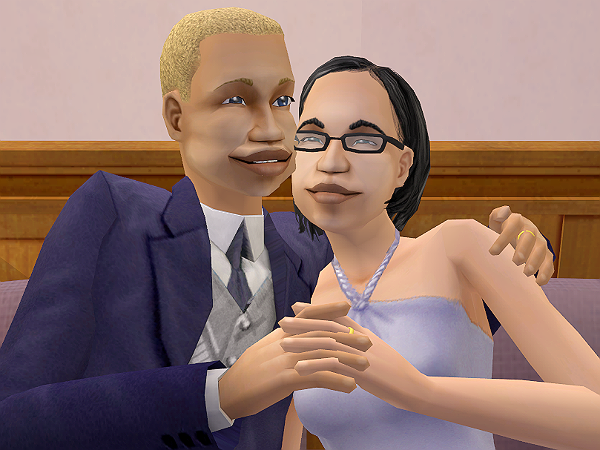 Hanley and Carmen went and had some alone time during the wedding party.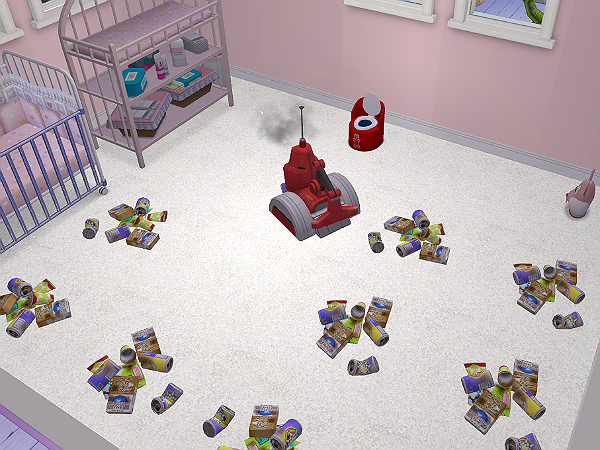 Meanwhile, the cleanbot was preparing the nursery for Generation 5 - by spitting out garbage everywhere.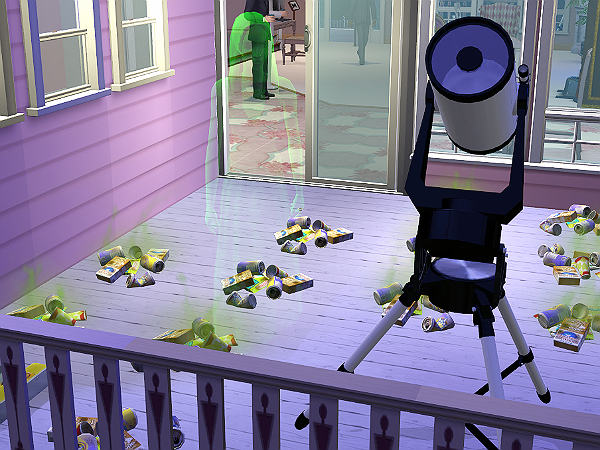 It looks like it filled up the porch before it started on the nursery. Marisa is out tonight to join the party celebrate her son Hanley's big day.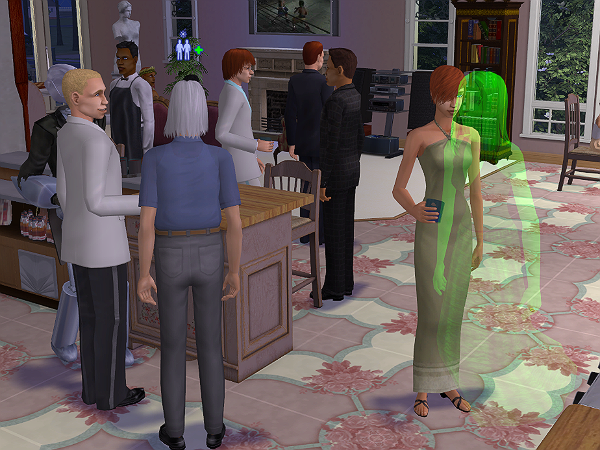 For the wedding party, Hanley's dad Garridan didn't bother with food, cake, or champagne, he just hired a bartender.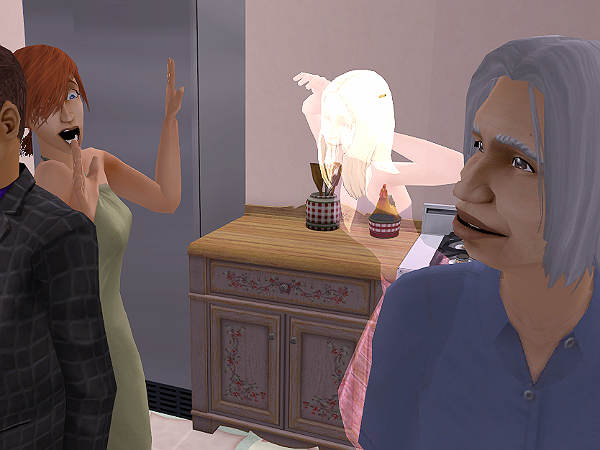 Marisa had some fun with the guests.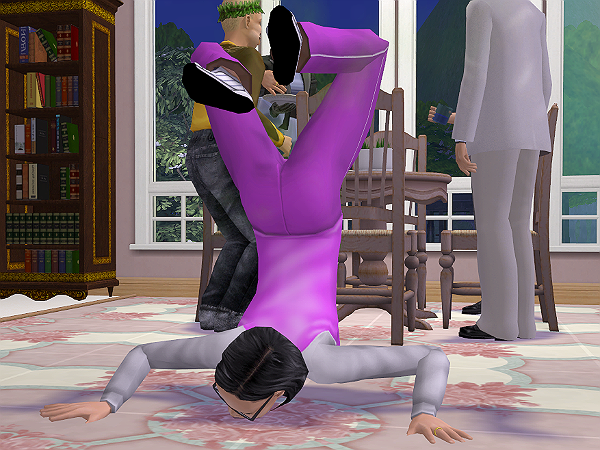 When things settled down after the wedding, Carmen had the want to get fit, and since she was already pregnant, yoga seemed like a good idea - at least while she was still able to do it - sorta.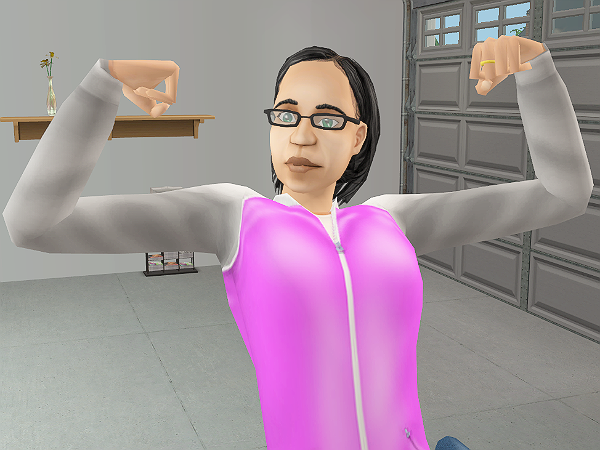 Carmen is a fast leaner, so it didn't take her long to get in shape. With a face like that though, does it really matter how fit you are? I'm just saying...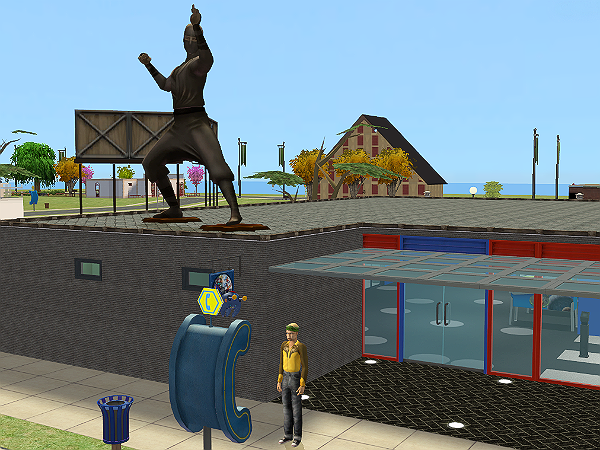 I decided to have Hanley start on his agonizingly tedious LTW of having 5 top-level business. He bought this arcade in Bluewater Village.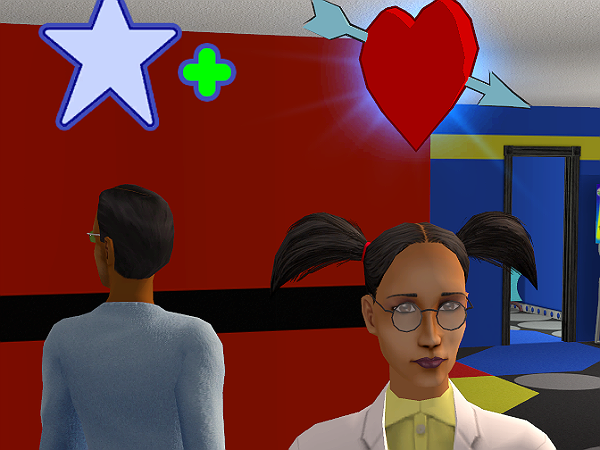 So here are the highlights of the painfully-long process of getting the business to level 10. Cassandra Goth and Darren Dreamer fell in love autonomously at the arcade.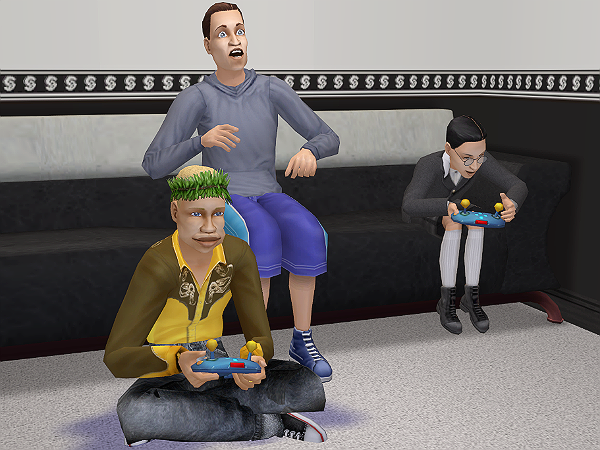 And Hanley lost a video game to Alexander Goth. Nothing else was that interesting, even though it seemed to drag on forever. But he did get the business to level 10. One down, four to go. Ugh.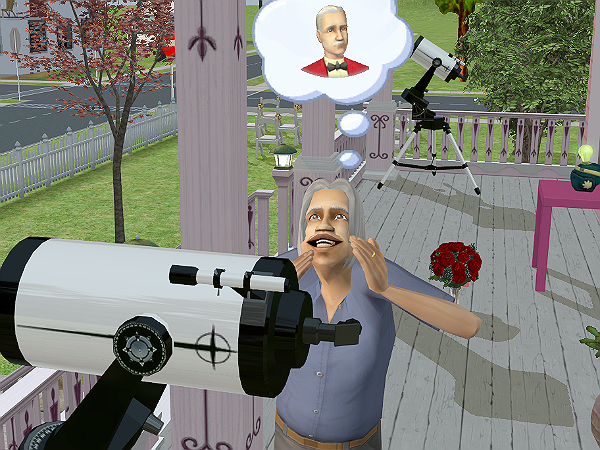 I love the look of sheer joy on Garridan's face as he spies on Mortimer.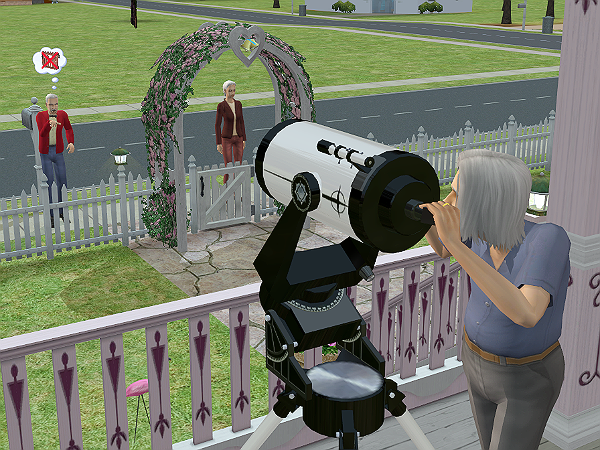 Garridan has locked the gate, so there's not a thing Mortimer can do to stop him now. He can only point and yell. I love how Garridan's still looking at Mortimer through the telescope while Mortimer is freaking out on the other side of the fence. Good times.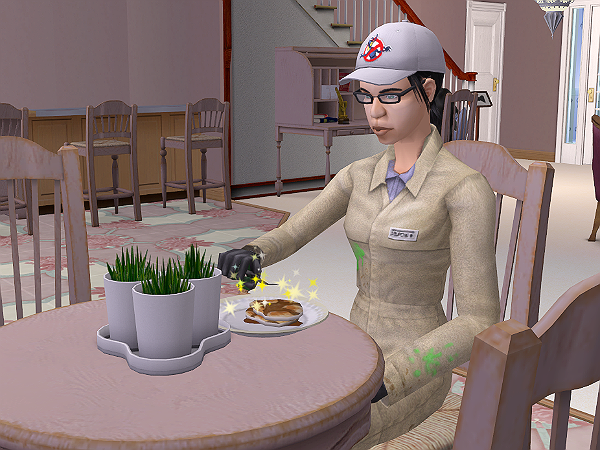 Carmen is very boring, but fairly easy to keep happy. She has all these food craving wants because she's pregnant.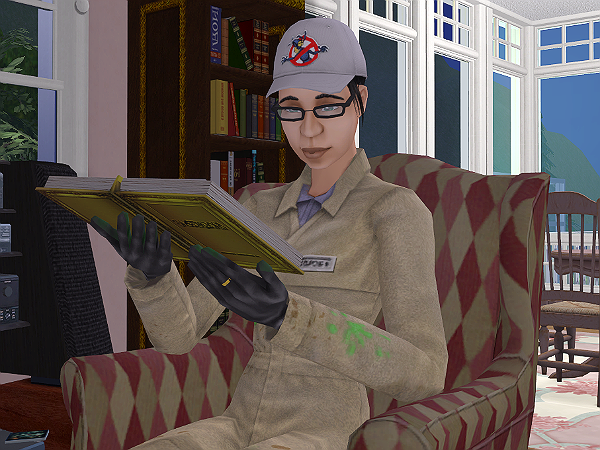 And she wants to study whenever she's not eating. At least I always know where to find her.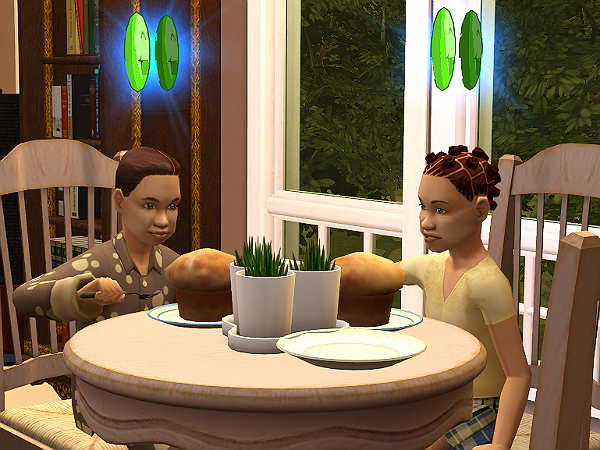 Orson and Petra are used to life as unneeded spares. I never know where these two are or what they're doing, but I happened to catch them becoming best friends over muffins that they baked for themselves. I guess their shared and neglect has made them close.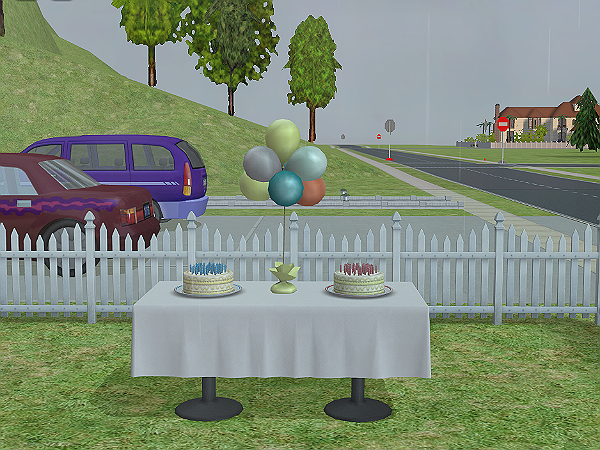 Since I thought that was a sweet moment, I decided to give them cakes for their birthday. They were going to celebrate their birthday on the front lawn, but then of course it rained.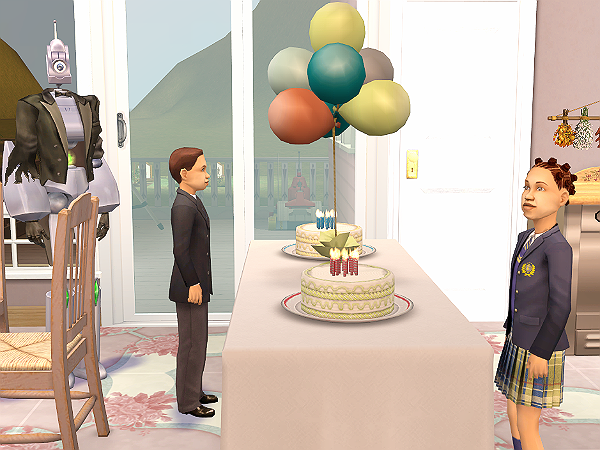 They moved the party indoors. AckBot was there, since he was the one who raised them - the closest thing they had to a loving parent.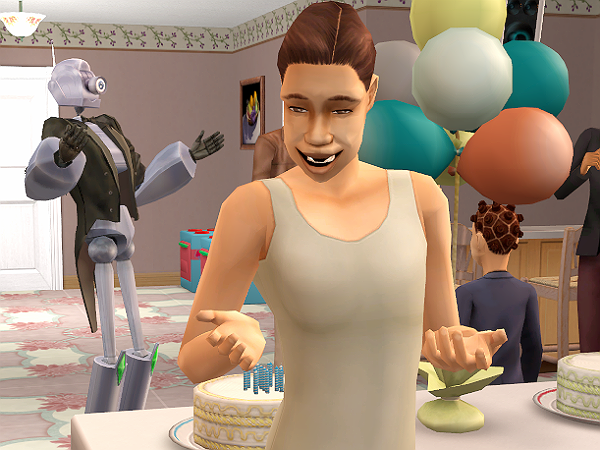 Orson grew up wanting to wear leotards every day. And not that it matters, but he's a Romance sim who wants to woohoo 20 sims.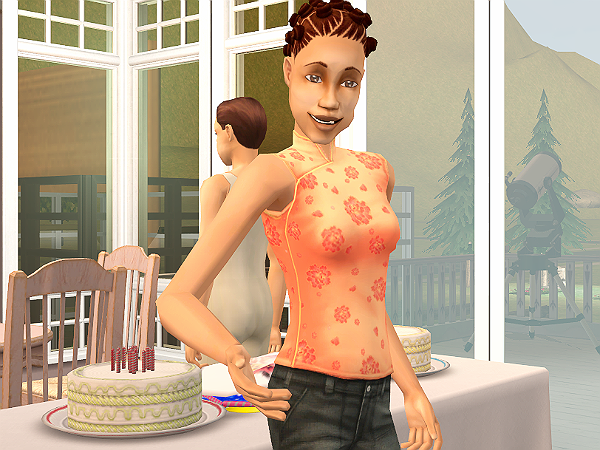 Petra doesn't look too bad - at least not as bad as some of them have turned out. Petra is a Family sim who wants to reach her golden anniversary.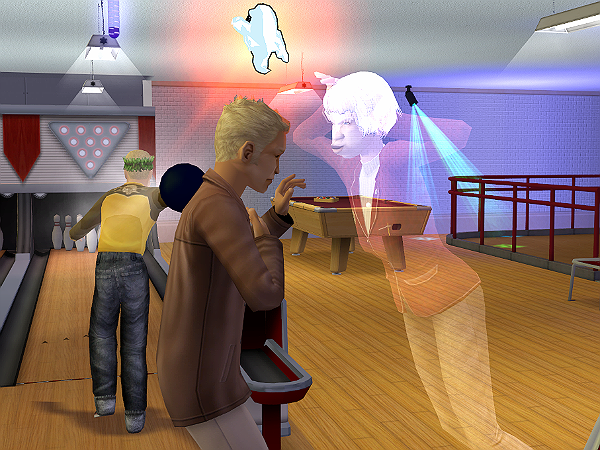 Sandy came out to haunt the Roll and Bowl. It's a popular place for the ghosts since it's close to their graves - and at ground level.
Ghosts can apparently haunt the bowling lanes, lifting the entire lane.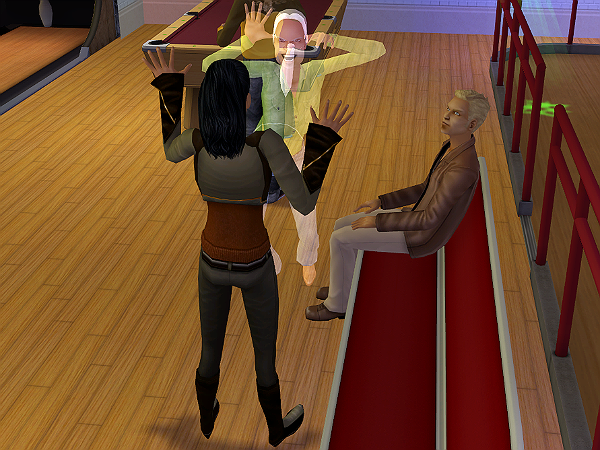 Rose also enjoyed scaring the customers of the bowling alley.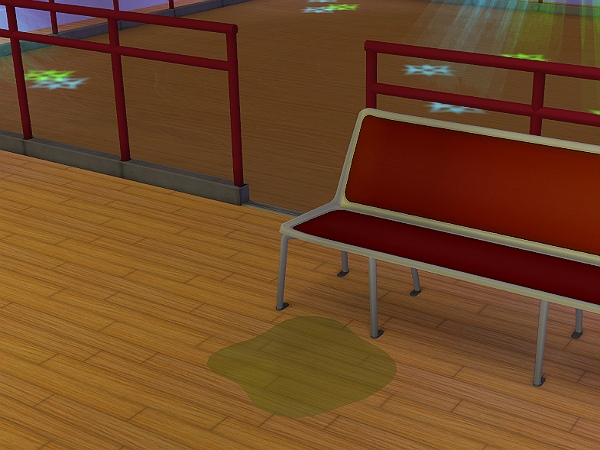 I guess the townie left a pee puddle at the Roll and Bowl.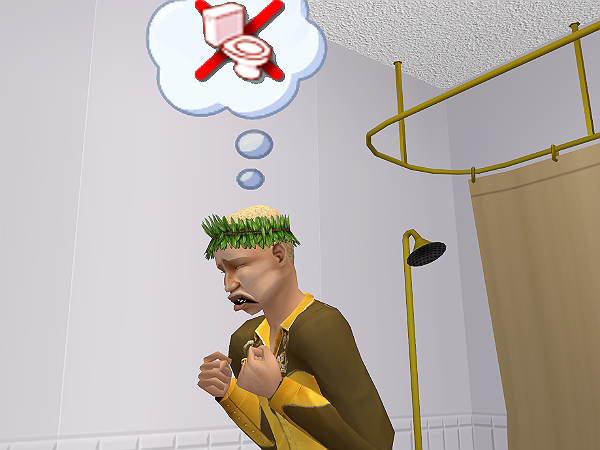 Or I thought it was the townie. It was actually Hanley that left the pee puddle. His grandma Rose scared him too. Now he is hiding in the bathroom and crying because he now has something in common with his annoying brother Kermit. Oh the shame of it! Hopefully, no one else saw.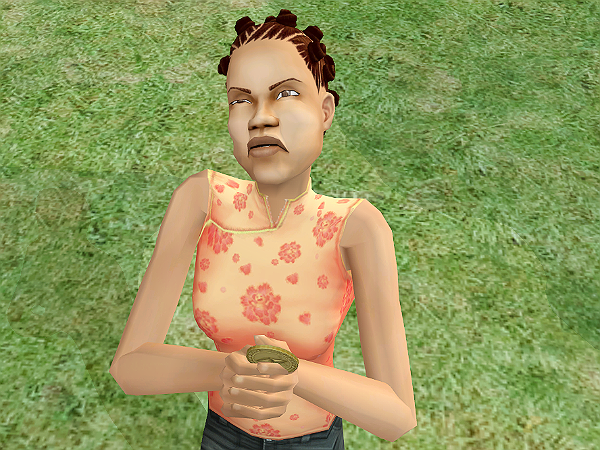 Now that she's a teen, Petra wants a first kiss, so she decided to make a wish at the wishing well. I have no idea why she's so angry about it.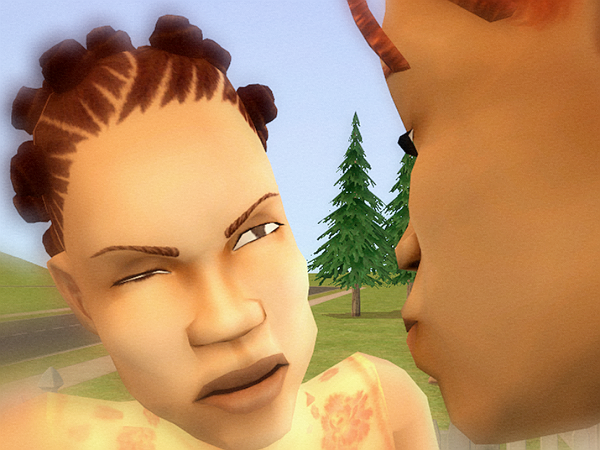 She really looks unhappy about this kiss going into it.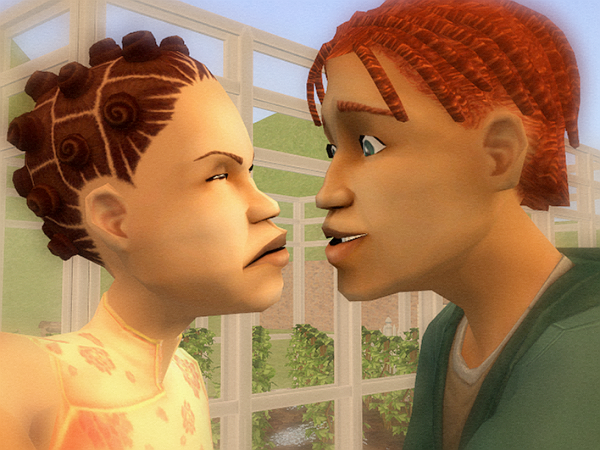 And I think this guy should be afraid to kiss her. Besides being ugly, she looks like she wants to spit in his eye.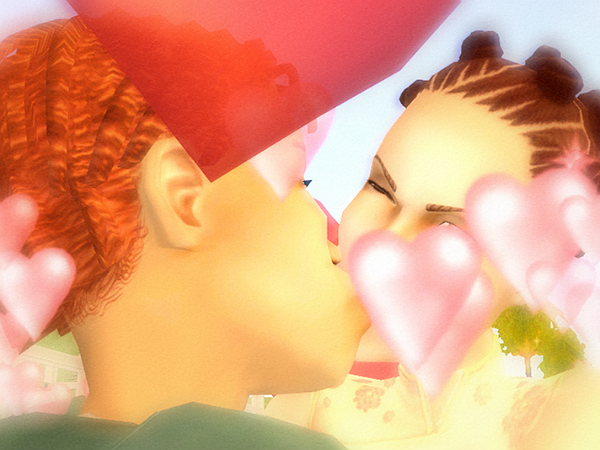 But he was courageous and kissed her anyway.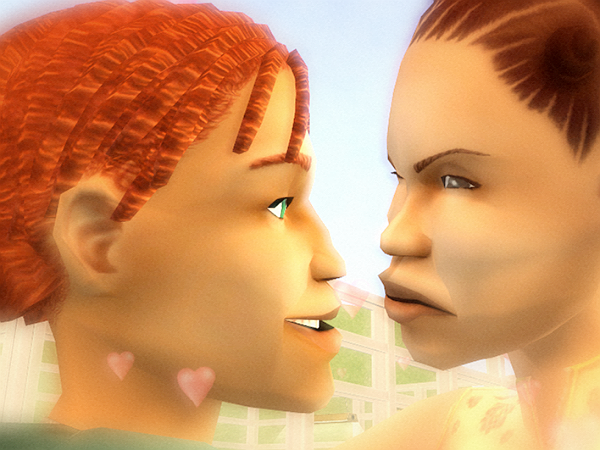 Apparently kissing him fulfilled her want, but didn't improve her mood. She glared at him like she absolutely despised him.
She got even more upset to see that they were best friends
and
he had dared to fall in love with her.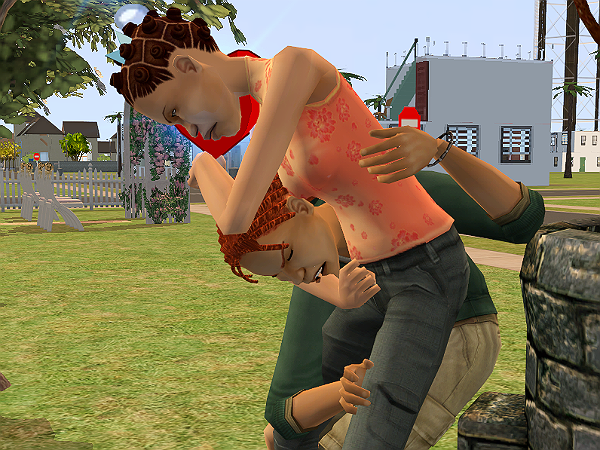 It was just too much to bear. She decided that she would noogie the floating heart off his head.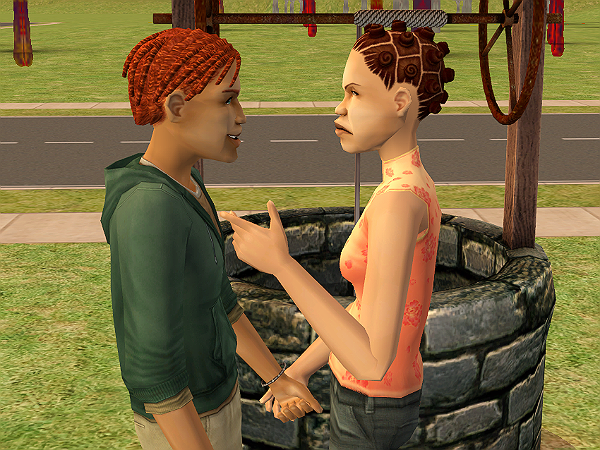 After that, even though she still looks ready to hurt him, she wanted to go steady with him.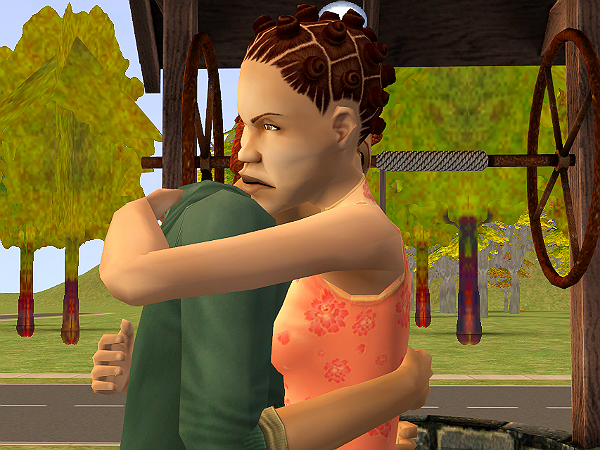 Which he surprisingly agreed to. She still seems very conflicted in her feelings.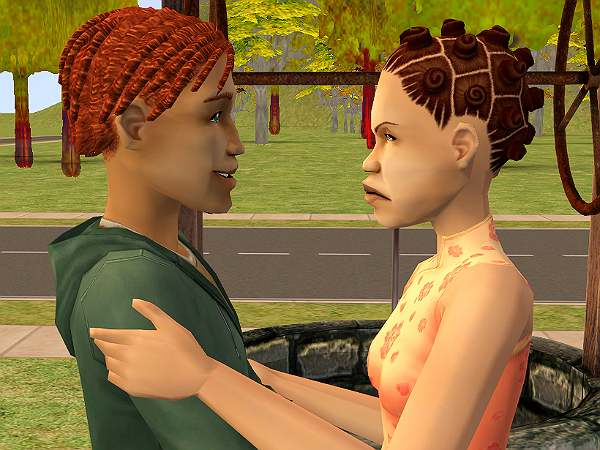 It's these funny, strange events that keep me playing Sims 2. I enjoyed this scenario so much.
As much as I really enjoyed Petra as a teen, this is the last we'll be seeing of her for awhile. She and Orson are spares, so they have headed off to college to make room for ugly babies.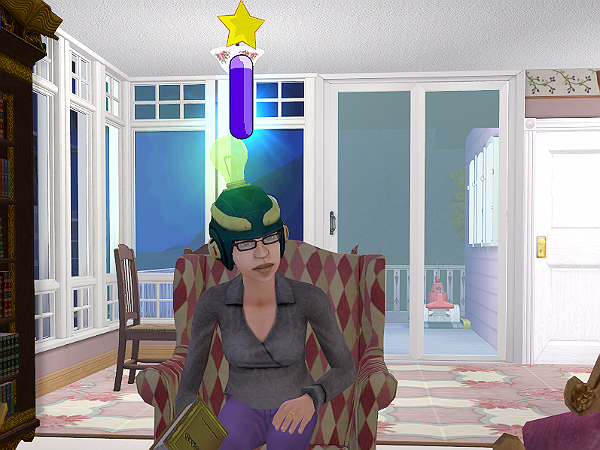 Carmen decided to take a short break from studying.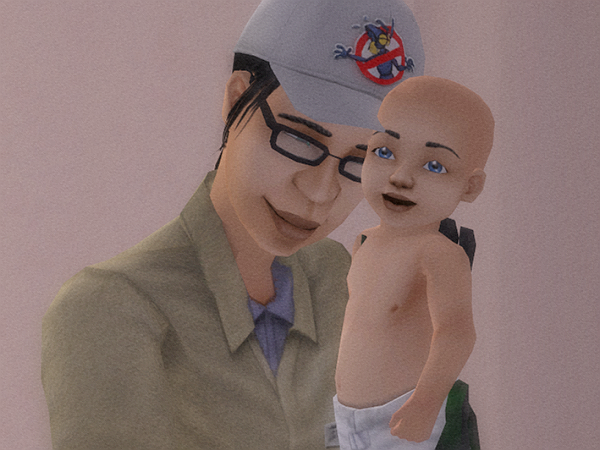 She went into the bedroom and gave birth. Meet Quennell. Quennell is a baby boy, and his name means "woman battle." If he's the heir to the Thayer fortune, I suppose it's possible that women would fight over him. They won't be fighting over him for his good looks, if he turns out looking anything like his mom and dad.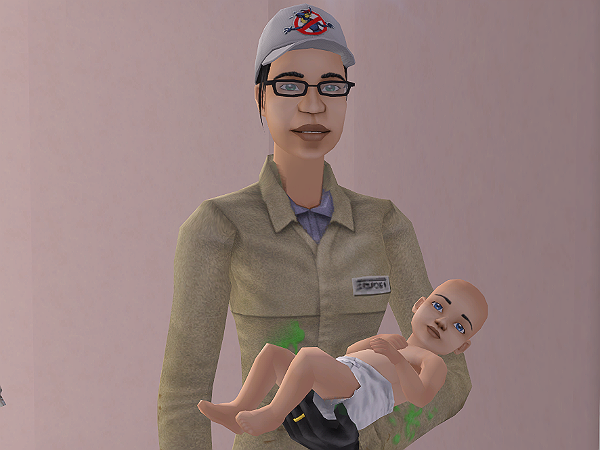 Carmen, should you really be holding your newborn in that pesticide-encrusted outfit?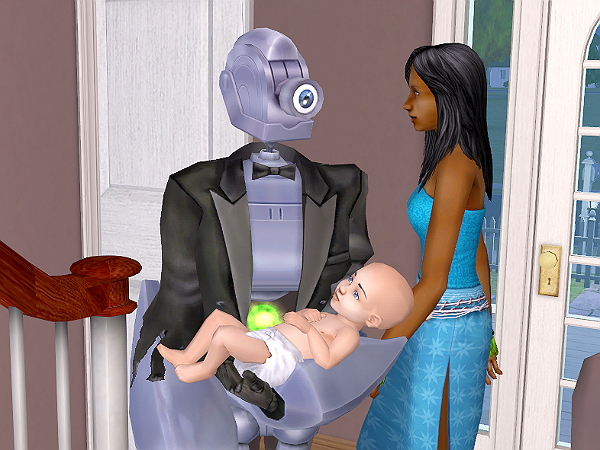 The baby was quickly handed off to be cared for by AckBot. They had to work on making another ugly little Thayer.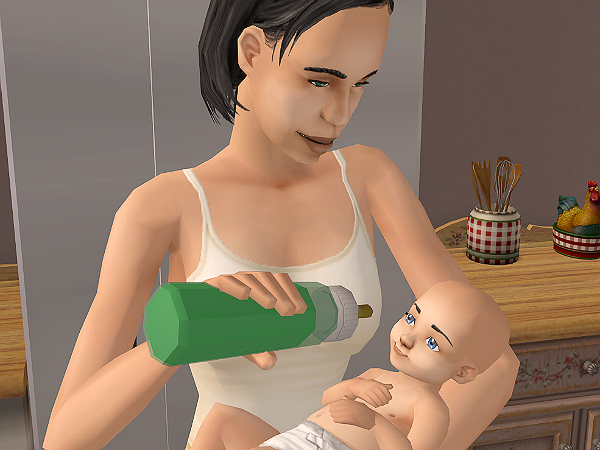 Little Quennell is so cute in this picture. He will most likely outgrow the cuteness as soon as he's a toddler.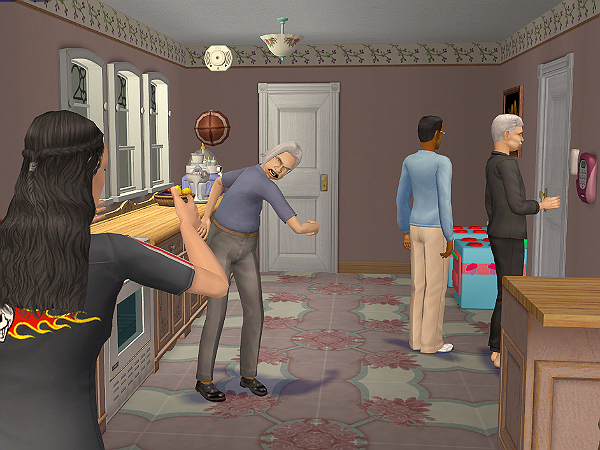 One nice thing about a Legacy house - it's big enough to play football in the kitchen. Fulton's ex-wife Tristen was there playing a game of football with his brother Garridan.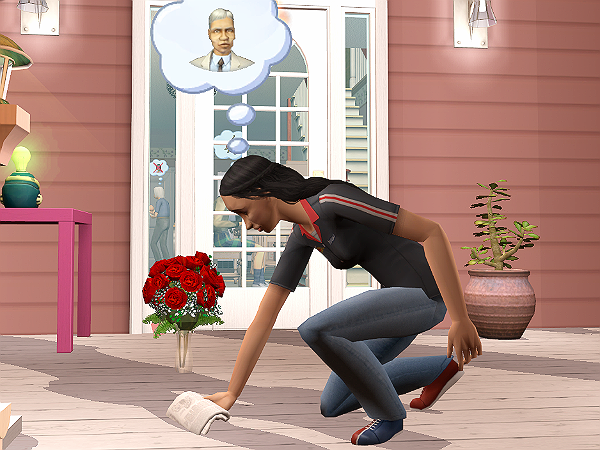 Even though her visit was drama-free, she's still really mad at Fulton, and drops by to steal the newspaper on a regular basis.
Tristen decided to learn parenting at the expense of showering and getting dressed.
She really fears changing diapers now. I guess when she studied parenting, she realized that changing diapers was a part of being a good parent. Luckily, AckBot is there for all the unpleasant tasks.
And although I have played a little beyond this point, I feel this is a good stopping place. Thank you for reading, and please stop by again for more of the UGG Legacy in the future.
(cross-posted at my
LJ
)